With an idea based on "flexibility, mingling and openness," Sou Fujimoto Architects, Manal Rachdi OXO Architects and Nicolas Laisné Associates have been announced as winners of a restricted competition to design a new Ecole Polytechnique learning center at Paris-Saclay University. The winning scheme, chosen over four finalists, will consolidate six institutions under one roof: Ecole Polytechnique, Institut Mines-Telecom, AgroParisTech, ENSTA ParisTech, ENSAE ParisTech and Institut d'Optique (IOGS).
"Opening up to the linear park in front, the Learning Center is invaded by nature," describes the team, commenting on the design's intention to be an extension of the landscape. "Inside, a wide atrium is inhabited by the light vegetation and a series of walkways and staircases creating numerous informal spaces for teachers, students and visitors allowing new places to meet or work. These platforms, the 'spontaneous amphitheaters' and the classrooms are united under one roof providing promiscuity and privacy in an intimate relationship with nature."
"People won't pass each other in corridors anymore, but meet in vivid places, in a unique space bathed in soft light, with surprising and changing views," adds the team. "The large transparent facade of the Learning Center opens to the West on the 'Green,' a vast public space covered by lawns and partly wooded. The building is thus seen as an open space revealing the activities taking place in its heart and stands as an architectural and academic emblem of the future neighborhood.
"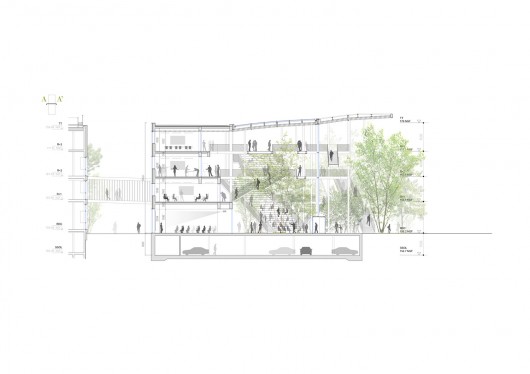 The 10,000-square-meter building will provide for 150 staff and welcome 2,000 students with programs ranging from lecture halls and classroom, to "distance learning rooms," collaborative project areas, a cafeteria and relaxation spaces. 
Architects: Sou Fujimoto Architects, Manal Rachdi OXO architects, Nicolas Laisné Associés
Location: ESTACA Campus Paris-Saclay, D10, 78180 Montigny-le-Bretonneux
Sou Fujimoto Design Team: Sou Fujimoto (partner in charge); Marie de France (project manager)
Manal Rachdi Oxo Design Team: Manal Rachdi (partner in charge); Traian Bompa, Helena Frigola (project manager)
Nicolas Laisné Associés Design Team: Nicolas Laisné, Dimitri Roussel (partner in charge); Margaux Desombre (project manager)
Consultants: EGIS Batiments
Bet Conception + Environmental Engineer: Frank Boutte Consultants
Acoustician : Lamoureux Acoustics
Perspective: RSI-studio, Manal Rachdi OXO Architects, Nicolas Laisne Associes
Area: 10000.0 sqm
Year: 2015
Photographs: Courtesy of Sou Fujimoto Architects, Manal Rachdi OXO Architects and Nicolas Laisné Associates
News via Ecole Polytechnique, Bustler
Sou Fujimoto-Led Team Selected to Design Ecole Polytechnique Learning Centre in Paris originally appeared on ArchDaily, the most visited architecture website on 07 Apr 2015.
send to Twitter | Share on Facebook | What do you think about this?
Comments
comments