The Helsinki planning office and steel product company Ruukki organized a student competition – Western Gateway – amongst all the architecture schools in Finland in 2011. The call for proposals was to design a landmark building in the newly developing western portion of the city – Koivusaari – utilizing steel in an innovative manner. Representing Aalto University, Arto Ollila's submission entitled "Fokka" was selected as the winning proposal. More details after the break.

The original scheme developed by the planning department envisioned a disconnected swath of towers housing separate functions. However, Fokka seeks to fuse and amalgamate the various functions into a hybrid city block of variegated density. The programming of the unified structure infuses the open plan lower levels with multi-purpose spaces. A cultural podium and retail segment mark the transition to the apartments and hotel that are located above, offering unencumbered views of the city and the courtyard below. In order to ensure proper flow of pedestrian traffic, direct connection with Helsinki's public transportation network was incorporated into the design.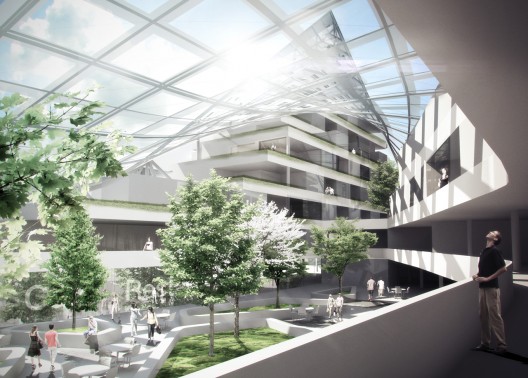 As with any climate that experiences several months of cold weather, protection from the elements is critical. Thus, the courtyard and the tops of the built structure are covered with a tensile steel structure with significant amounts of glazing to guarantee daylighting and passive solar gain in the winter. A secondary goal of the tensile covering is to minimize the amount of exterior envelope surfaces – open exterior hallways/passages.
Jury's comments regarding the proposal:
"The basic concept of the winning entry is professional, sovereign and innovative.  "FOKKA" is based on a logical research of the surrounding city structure and proposes carefully examined functions. The outcome takes the surroundings beautifully into consideration. It is contemporary, poetic and sculptural hybrid building. The proposal creates a new kind of public spaces. "FOKKA" is architecturally high quality, elegant and insightful concept."

Winning Proposal for Koivusaari, Helsinki originally appeared on ArchDaily, the most visited architecture website on 15 Jul 2012.
send to Twitter | Share on Facebook | What do you think about this?
Comments
comments