Architects: Michael Meier Marius Hug Architekten
Location: Zurich, Switzerland
Collaborators: Chrsitiane Illing, Jürg-Andreas Riedl, Christina Sulzer
Area: 600 sqm
Year: 2010
Photographs: Roman Keller
From the architect. Reconstructing the barn, this detached conglomerate of buildings outside Schwamendingen got back its urban presence. Acting as an historic witness in an area of multi-story residential buildings, it works as an identity generator.
While the farmhouse still works as a residence, the column-free construction of the barn is thought for public use. The structure of the floor plan is maintained and the valuable wood panelling, the floor boards and the tiled stove are restored in aspects of preservation. The existing layers of paint and wallpapers are reinterpreted.
The barn, which corresponds to the surface line of the former building, receives a translucent cladding on the longitudinal façade. The cuttings in the rough sawn larch planks are reminiscence to the barns in the 19th century. The five trusses divide the barn into their former four segments. Two large gates mark the entrances and reinterpret the function of the threshing floor as a circulation space. The lights are developed according to the enameled barn lights.  The aim was to achieve maximum flexibility for further construction and spatial layout both for temporary and future users. Due to its volume the new barn represents the typology of an agricultural building while its external expression has undergone a refinement for the urban context and it's new program.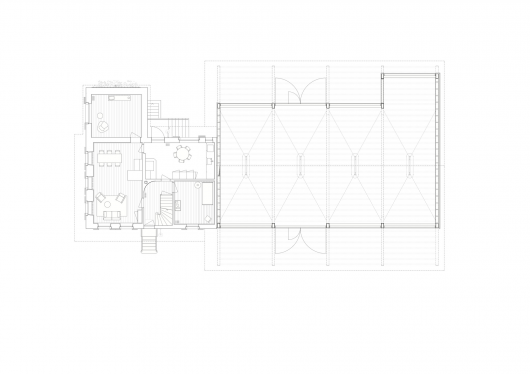 Dwelling House with Barn / Michael Meier Marius Hug Architekten originally appeared on ArchDaily, the most visited architecture website on 25 Nov 2013.
send to Twitter | Share on Facebook | What do you think about this?